A desire to decompress and impress your family in this time of confinement?
Our barman at the Bar de La Mer reveals his recipe for the famous Mai Tai cocktail.
It is a rum-based cocktail that cannot be ignored.
A cocktail with tropical sounds, one could easily believe that Mai Tai was invented in Polynesia.
For the record, this cocktail actually comes straight from Oakland, California… The restaurateur Victor Bergeron decided to create his own cocktail based on rum from the islands. One evening, he offered some to two Tahitian friends and one of them, after tasting this cocktail, raised his glass and said "Mai tai roa ae" meaning "the best in the world". Mai Tai had its name and the legend continued when Elvis Presley appeared sipping his little glass of Mai Tai in the movie Blue Hawaii.
So don't wait any longer, get your shaker!
Ingredients: 
– 3cl of Guadeloupe white rum…
– 3 cl of old Guadeloupean rum
– 1.5 cl lime juice
– 1.5 cl barley syrup
– 1 cl of Cointreau or orange liqueur
The preparation:
Pour all the ingredients into a shaker, previously filled with ice.
Shake it all.
Remember to strain the ice while serving!
Decorate with a slice of orange and serve it, as tradition dictates, in a tulip glass, so that the aromas can be best perceived.
An explosion of flavours will delight your taste buds and this cocktail will essentially be an invitation to travel…
Beware, this Mai Tai cocktail is relatively powerful, beware of the side effects!
After falling in love with cooking in Monaco, Aurélien Bulgheroni mixes the heritage of several years spent with renowned chefs in Canada, Australia and Bora Bora. His international creativity blends perfectly with local products.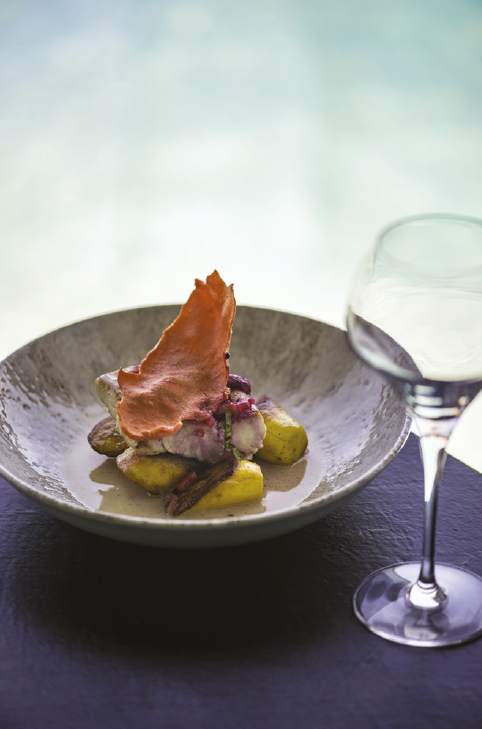 DHDI: What have you made evolve on the menu of La Toubana Hotel and SPA?
AB : First of all, I changed the dynamics of the cuisine, I tried to organize the rhythm and then I modified the menu to better correspond to the expectations of the customers. We use some international products, but we will especially adapt to local products, especially seasonal vegetables.
What are the best-sellers to test at La Toubana?
On the menu, we have some local specialities such as grilled lobster, chatrou but I advise you to try our flagship dishes: tuna ceviche with a lemon confit vinaigrette which makes all the difference because
in the mouth it is soft, not acidic and allows to appreciate the freshness of the
tuna while raising the dish a little. It is served with salad and a gratin.
of sweet potato. Then we have the dorado that we get directly from the
morning of the fisherman, we pre-cook it in a frying pan and then we poached it in a
coconut milk lightly flavoured with lemongrass. The flesh is tender, never
dry. A few small roasted plantain bananas are added on top of it and a
rice chips. For dessert, the coconut flan is a classic and as a novelty we have chocolate in all its states: white, dark, milk, with several textures, biscuit, ganache, ice cream and chocolate chips.
Is there a brunch on Sunday?                                                                                                        Yes of course, a brunch in the form of a cold buffet: all kinds of fish gravelax, ceviche, many varieties of salads with seasonal products, giraumon, cabbage, sweet potatoes etc., meat tataki, beef carpaccio. In addition, we have a barbecue station, where customers order directly from the cooks what they want to cook, which can be shrimp skewers, Cajun faux filet, beef entrecote, chicken melon, sea bream marinated in lemon confit, with lots of small fillings and sauces, and behind that a buffet of traditional desserts is offered without forgetting the unmistakable banana flambé.
Your next assignment?
I'd like to modernize the snack menu at the beach restaurant. I've already got some crazy ideas: like a poke salad made with tortilla chips mixed with tuna sashimi, an Asian-style dressing, some
lawyers… And, in my wildest dreams, I'd like to throw tapas from 3:00 to
7pm but in a more elaborate style than traditional tapas. And, three evenings a week, open the beach restaurant with a very elegant trattoria spirit.
Aurélien Bulgheroni
revolutionizes the maps of La Toubana
Hotel & Spa *****
The Big Blue Bus – Toubana The Beach – The Sea Bass
Reservations by phone at +590 (0)5 90 88 25 57
or by mail info@toubana.com